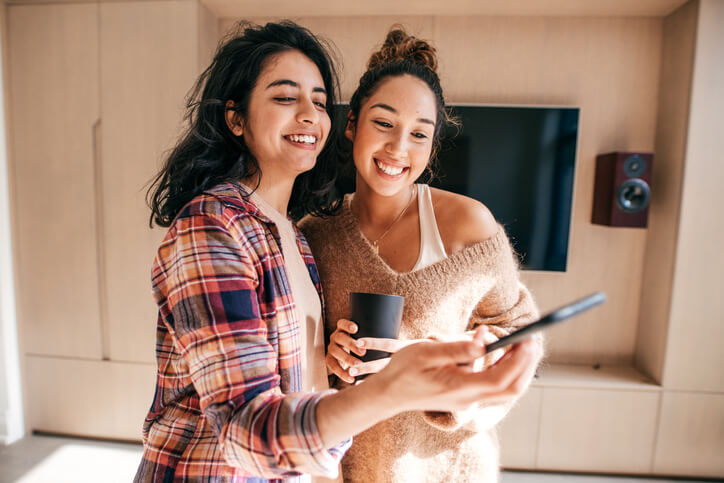 Students moving to Knoxville have a number of important decisions to make, including whether or not to live with a roommate in Knoxville student apartments. It is common to have some trepidation about moving in with a roommate, especially if that roommate is a relative stranger. Luckily, the advantages of having a roommate far outweigh the disadvantages.
Social Benefits
Living with a roommate often provides an exciting boost to your social life. When students move to Knoxville, their roommates are often the first friends they make. Most of the best apartment complexes in Knoxville offer roommate matching services, so students who don't already have a roommate arranged can fill out a questionnaire and be matched with a roommate who suits their personalities.
With roommates, students have access to a larger social circle as they meet their roommates' friends. Relationships between roommates can grow into lifelong friendships that last years past your move-out date.
Financial Benefits
Students who live with roommates have the benefit of saving on various housing expenses. With a few roommates, you may be able to live in larger off campus apartments in Knoxville at a lower cost. In addition to splitting the cost of monthly installments and utility bills, roommates can also share entertainment expenses such as streaming services, as well as the cost of cleaning supplies and household essentials such as toilet paper or groceries.
Sharing Responsibilities
A major concern in Knoxville student apartments is cleanliness. With roommates, you can split chores around the apartment, cutting down the time each person spends keeping the apartment clean. Roommates can also share responsibilities such as grocery shopping and errand running.
Roommates are also great for doing favors for each other, such as caring for pets, returning items you left at home, and opening the door for each other when one forgets their keys.
Security
Students living in off campus housing for the first time also need to keep security in mind. When there are additional people in the house, bumps in the night are less worrisome, and it can bring you great peace of mind knowing your roommate is in the next room. Additionally, should you forget to lock up, your roommate can have your back and double check the locks.
We all worry when we leave for vacations, breaks and weekend getaways that our belongings will be safe. But with roommates, you know it's likely someone will be at home while you're away.
For all these reasons, and more, we know you'll love living with new, potential best friends. Request to room with people you know, or try our roommate matching services to be paired with like-minded individuals. Contact us today to schedule a tour.