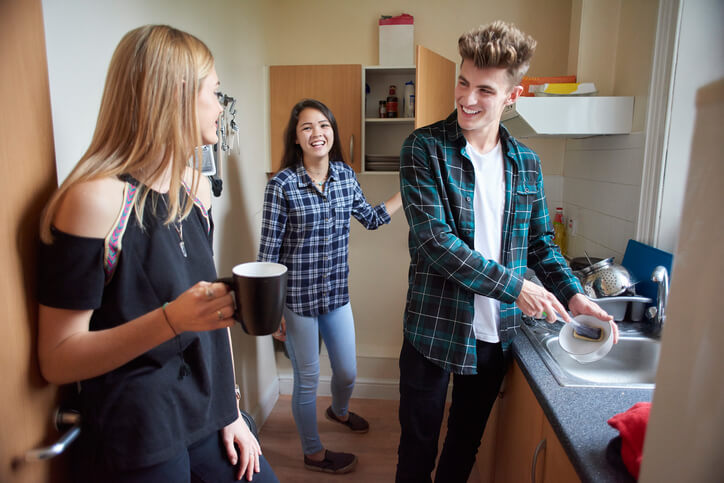 In student apartments Knoxville, TN, residents can share living space with as many as three or four roommates. This means that, unless you have all your roommates in mind before applying for housing, you'll need to find people to live with. But finding suitable roommates is more than simply meeting new people. Roommates also need to be compatible with each other, so everyone can maintain his or her preferred lifestyle. Fortunately, there are several approaches you can take to find roommates.
Best Approaches for Finding Compatible Roommates
When roommates are compatible, their lifestyles complement one another. For students at The University of Tennessee, Knoxville, for example, suitable roommates could be people with comparable study habits or shared hobbies. On the other hand, students with different sleep schedules, including one who stays up late and another who goes to bed early, would not be a good match. Thus, the way to find a compatible roommate is with an approach that identifies the similarities and differences between people's living habits.
Roommate Matching Service
With more students wanting to live off campus housing near UTK is growing in demand. In response, some apartment communities have turned to individual leases and roommate matching services. An individual lease allows a student to rent one bedroom in an apartment, thus eliminating the need to find roommates ahead of time or to share the full cost of rent. Regarding roommate matching services, each student has the option to fill out a questionnaire about lifestyle preferences while completing the application for housing. The landlord then reviews the questionnaires, identifies students with similar preferences, and matches them as roommates.
Post an Ad Online
An ad posted to an online forum, such as Craigslist or Facebook, can generate leads for roommates. But the ad must be properly worded to attract responses from people who are compatible with you. In Knoxville off-campus apartments are primarily for students, so it's a good idea, for example, to state that you are looking for a student as a roommate. Other general criteria worth mentioning could include that the roommate should be willing to help with house cleaning or limit noise to respectful levels at night. Also, make sure to take precautions for your privacy and safety by not sharing personal information in the ad, and when you first meet a potential roommate use a public location.
Existing Relationships
People with whom you have existing relationships, such as friends, coworkers, or classmates, can be potential roommates. The advantage to considering an acquaintance as a roommate is you know some of each other's habits already and can thus anticipate whether the match is compatible. Bear in mind, though, the criteria for living together is different than for socializing or working together. While you may get along well with a classmate during a school project, that doesn't mean you two have shared expectations for how clean a kitchen or living room should be. So, before committing to be roommates, it's advisable to have a discussion with the person about the similarities and differences of your lifestyles.
Benefits of Roommates
Compatible roommates can provide a general sense of camaraderie as well as offer encouragement when it comes to doing homework or studying for tests. Roommates can also make each other's lives easier by collectively sharing responsibilities such as tidying up the apartment or shopping for groceries each week. And unlike in traditional apartments, so long as you live in student apartments with individual leases and most utilities included, there's no need to hassle with collecting everyone's money for rent, TV, or internet, since each roommate pays separately.
Student Apartments in Knoxville, TN
Knox Ridge is an apartment community that caters to the lifestyles of students in Knoxville, TN. We offer individual leases and roommate matching services for four and five-bedroom apartments that are fully furnished and have cable, internet, and most utilities included. Residents also enjoy access to our community amenities, including a fully-equipped gym, a lazy river with tubes, and an outdoor gaming area. Knox Ridge also stands out because of our prime location just minutes from the UTK campus as well as places for shopping, dining, and entertainment. Contact us to learn more about living off campus at Knox Ridge!