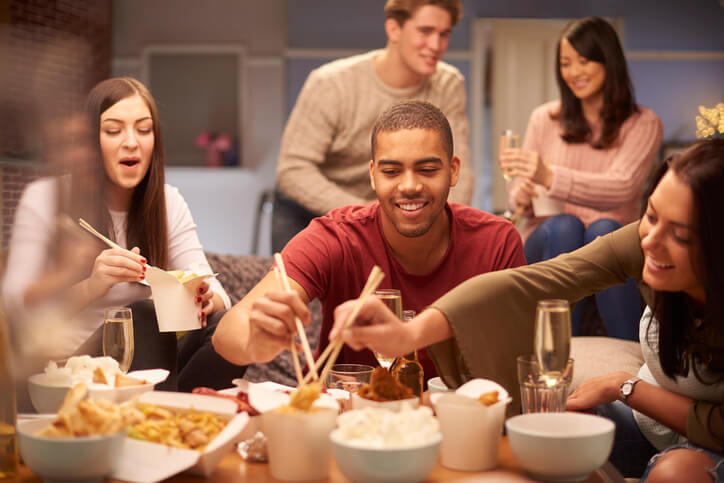 While moving to a new apartment is typically an exciting experience, leaving behind old friends and starting somewhere new can cause a feeling of dread. For those first-time movers looking to meet new people, turning an unfamiliar apartment community into a place that feels like home is surprisingly easy. Whether moving for school or just looking for a fresh start, there are plenty of opportunities for residents to make new friends and create lasting memories at our Knoxville student apartments. Start meeting fellow Volunteers and build up a social circle with these tips from Knox Ridge.
Get To Know Your Roommates
One of the most convenient places to make new friends is right in your own UTK apartment. With four-bedroom apartments and five-bedroom apartments available here at Knox Ridge, residents will have anywhere from one to four brand new roommates, which means plenty of potential new friends. With roommate-matching services available, residents looking for a roommate will be matched (to our best ability) with other residents based on their interests and lifestyle preferences. On move-in day, exchange quick pleasantries with your new roommates and see if they want to get some takeout and watch a movie once they're all settled — we are conveniently located near all the local hotspots so bonding with roommates is easier than ever! If things click, you'll have a brand new group of friends on your very first day in our Knoxville student housing.
Check Out The Amenities
One of the great perks of choosing to live in UTK off campus apartments is all the resort-style amenities available throughout the community. For those who love to spend a day soaking up the sun, the lazy river is a perfect place to mellow out and start pleasant conversations with others. If some friendly competition is more your speed, check out our outdoor gaming area, and see if any fellow residents are looking for an extra teammate. For residents who love to spend their free time getting in shape, the fully equipped gym, complete with both strength and cardio training machines, is the place to be to meet other active residents. Alternatively, for residents more at home in the great outdoors, we have a property-wide nature trail as well as a myriad of local hiking spots that are ideal for nature lovers.
Let Your Dog Break The Ice
Living in a pet-friendly apartment community, such as Knox Ridge, provides many amazing perks. Not only can you bring along a fluffy friend, making the moving transition a little easier, but your companion serves as a perfect talking point with other residents. Let's face it — no one can resist a cute, happy dog. When out on daily dog walks, take some time to strike up a conversation with anyone who seems interested in petting your pup. While you likely won't become friends on the spot, over time you'll become familiar with the other residents, and friendship may blossom. If other residents have a friendly pet, scheduling a pet playdate is also a great way to start up some small talk and get to know someone in a relaxed environment.
Host A House Warming Party
Once everything is moved in and settled, nothing says welcome to the neighborhood like a housewarming party. Sit down with your roommates and find a day that would work for everyone to have a small get-together to celebrate moving into your new UTK off campus housing. Ask them to invite any friends they have and, if you're feeling friendly, knock on your neighbors' doors and see if they'd like to stop by. Get some snacks, crank up the tunes, and have a fun evening with new people. Just be respectful when playing loud music, and make sure to socialize with those you don't know.