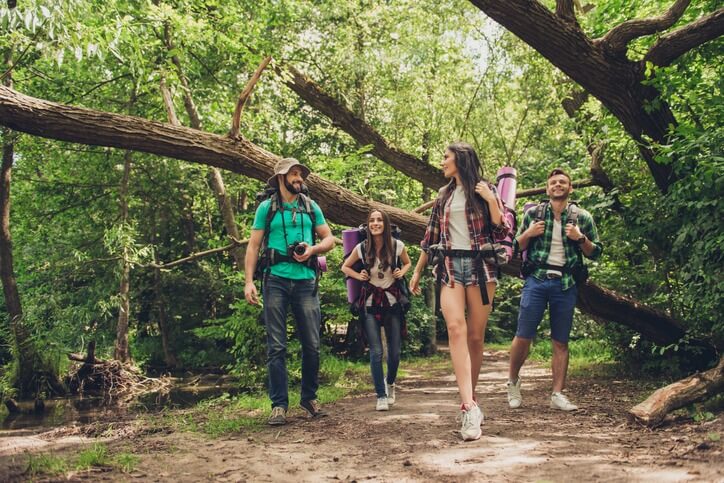 When you live in off campus apartments in Knoxville, the great outdoors is within your reach. Knox Ridge features a convenient property location that puts residents in the heart of downtown Knoxville and near a wide range of local favorite natural settings. The City of Knoxville offers hundreds of acres of diverse parks and greenway settings — including forests, creeks, rivers, flower-filled fields, and quarry lakes — many of which are located just minutes from our UTK housing community. If you're looking for ways to immerse yourself in the natural world without having to travel too far from your apartment, check out the following nearby nature destinations.
Hike The Property-Wide Nature Trail
There's a lot to love about living in Tennessee — especially when you live at our Knoxville student apartments. Knox Ridge provides residents with outdoor community amenities located just steps from their front door. At our student housing community, residents can get their fix of the outdoors while tubing down our lazy river, decompressing in the 30-person hot tub, or immersing themselves in nature on our property-wide Knoxville hiking trail. Schedule a property tour to see what it's like to live in our apartments.
Visit The Outdoor Knoxville Adventure Center
We encourage residents to stay active by discovering the plentiful outdoor activities offered throughout the city. The Outdoor Knoxville Adventure Center — located just 4.8 miles from our student housing in Knoxville — is an information hub for all outdoor activities in the area and offers outdoor activity opportunities for adventurers of all levels, from paddleboard, bike, and kayak rentals to group outings, outdoor events, and seasonal classes. Bring friends along for a day of outdoor fun or spend some solo time and decompress in nature.
Climb In The Urban Wilderness
A local favorite destination for Knoxville nature lovers, Ijams Nature Center is a wildlife sanctuary featuring 315 acres of space in which visitors of all ages and abilities can hike, paddleboard, bike, climb, attend environmental education programs, or simply enjoy the day. This natural oasis is located just 5.7 miles from our Knoxville, TN student apartments, so student residents can conveniently enjoy the outdoors and appreciate the lush, Knoxville nature in an urban greenspace without having to travel far.
Take A Trip To The Knoxville Zoo
Knox Ridge is a pet-friendly community that invites each resident to bring with them their furry friends — our community allows pets without breed restrictions and only requires a one-time pet fee. Members of our pet-loving community likewise enjoy visiting Zoo Knoxville. Located 10 miles from our property, the zoo offers a plethora off animal-related activities, from animal encounters, in which visitors can see their favorite animals up-close, to night safaris, which comprise of after-hours tours of the zoo's nighttime animal habitats and hands-on activities.