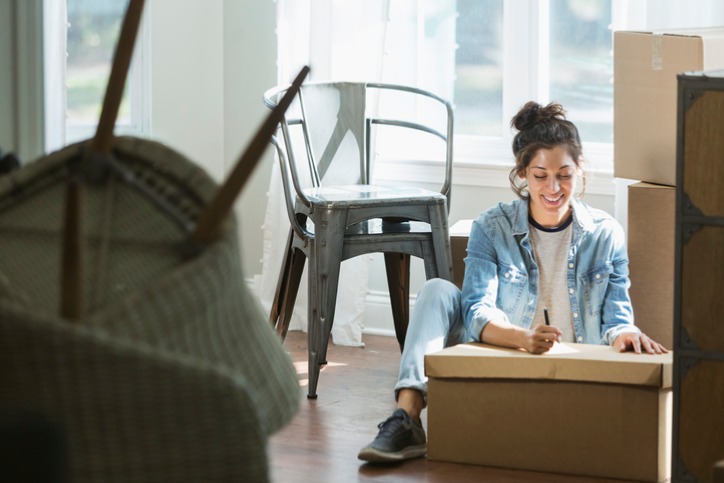 Here's a fun activity: list your life's most pivotal events in order of their importance — from most important to least important. Items near the top of the list might include getting your first car, being accepted to study at the University of Tennessee, Knoxville, and of course, moving into your first off campus apartment. Living on your own as a first-time renter is exciting, but it also makes it hard to know what items to bring with you on moving day. That's why Knox Ridge created the ultimate moving checklist for student apartments near UTK.
Furniture
Furniture tops the list of apartment essentials. After all, it's a meager existence not to have a desk, couch, or TV. But if you've shopped for furniture before, then you know how expensive it can be. So you're left with a choice: either break the bank on a new couch or hit up the thrift shop for a dated sofa with mysterious origins. However, there is a third option: live at Knox Ridge. Each of our furnished apartments in Knoxville comes equipped with all of the essentials, so residents have most of the furniture they need upon moving in. Even so, we recommend bringing bed pillows, mattress sheets, and any additional personal items that might help you feel at home in your new living space. Do you have a favorite bean bag chair in which you've played Xbox since middle school? What about bedroom decorations that express your unique style? Whatever essential pieces you want in your apartment, bring them with you!
Kitchen Supplies
The kitchen is already decked-out with stainless steel appliances, such as a refrigerator and dishwashing machine, and a spacious dining area that's perfect for hosting your first dinner party. What you need to bring are silverware, cooking utensils, plates, cups, and anything else that'll help with meal prep. Garbage bags and soap for the dishwasher are also essential. Since you'll have three or four roommates living with you, coordinate with them to save money: one person buys silverware, another buys a set of kitchen knives, and so on. What's more, the kitchen areas in our apartments feature plenty of storage space to stock up on your favorite foods and ingredients, so be sure to fill up the pantry with your food and drink staples!
Groceries
Since you have kitchen supplies, now you need ingredients to cook. Head to your favorite grocery store to pick up one week's worth of perishable foods and two week's worth of dried goods. Refill the perishables the following week, and start the process over during the week after that — adhering to this model helps to reduce the likelihood of food items expiring before you have the chance to consume them! Are you on a budget? Have no fear — there's a Kroger supermarket and a United Grocery Outlet less than 8 minutes away from our student community via West Young High Pike, right near Chapman Highway. Want a broader selection of organic, international, or specialty foods? Head west on Kingston Pike to find The Fresh Market, Food City, Whole Foods Market, Trader Joe's, and Earth Fare (in that order).
Bathroom Toiletries
Convenience is a key part of our UTK apartments — each resident has a private bathroom connected to their bedroom. Such are the benefits of student life at off campus housing in Knoxville. Of course, having your own washroom isn't worth much unless the room features all the toiletries you need. On moving day, bring at least two towels and multiple washcloths, a couple of bath mats, a rubber mat for the shower bottom, a toothbrush, toothpaste, and most fundamentally, toilet paper. When it comes to bartering with roommates, nothing beats extra toilet paper. If you're a hoarder of cosmetics or hair gels, bring a hanging wire shelf to conserve counter space; just don't forget to use removable adhesive to avoid damaging the walls.
Entertainment
Among the number of perks of living at Knox Ridge is the wide range of exclusive community amenities — but in-unit entertainment is important, too! As such, the living rooms at Knox Ridge are pretty much move-in-ready. They have a couch, end tables, and a flat-screen TV with cable. But you can always add to the area's entertainment value. If you have a game console, a stack of Blu-ray movies, or a pulse-raising sound system that makes B-movies and mediocre dance hits sound like blockbuster thrillers and Grammy-level performances, bring them along — your roommates will thank you (as long as you keep the volume low at night and during study hours).
Cleaning Supplies
When you draft your first apartment budget, along with monthly installment payments and groceries, make sure to include cleaning supplies. In family homes, it's parents who take care of most of the cleaning. In the dorms, it's the cleaning staff. You have neither available to assist you. If you're a tidy person with a history of cleaning up after yourself, we don't have to tell you what to buy. But for the cleaning novices out there, we suggest a large box of Clorox wipes, at least one vacuum for the carpets, a Swiffer for the hard floor areas, and plenty of air freshener so that instead of stale pizza, unexpected house guests are met with the aromas of lilacs and berries. If you need more tips on what to bring with you to move into student housing near UTK, contact us or schedule a property tour!