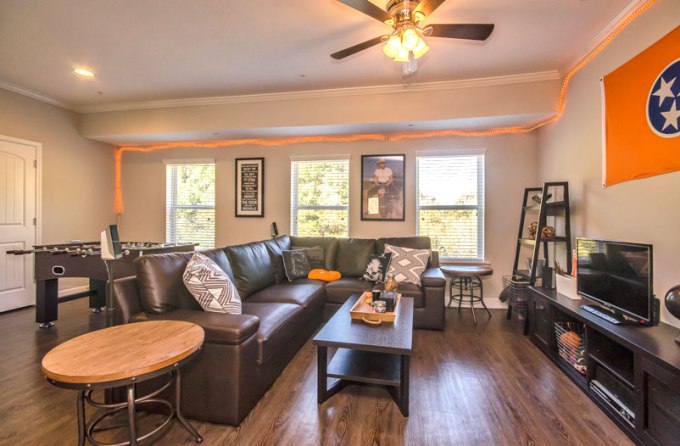 When it comes toKnoxville student housing, we know you have plenty of options. Whether you're a college freshman moving out of the house for the first time or a graduate student looking to get away from campus, Knoxville has something for everyone. Choosing the right kind of housing does play a big part into your college experience and academic success.
On-Campus Housing
Living on campus has a level of convenience to it. A car isn't really necessary as you're within walking distance of dining halls and friends you make while at UTK. And paying rent each month isn't something you worry about either. But with the convenience comes living by rules and standards set by someone else. On-campus housing has required visitor check-ins, enforced quiet hours, and dictate what you can and can't do while living in on-campus housing. Plus, most on-campus housing only allows students to live there while classes are in session, meaning you'll have to move out over holidays and breaks.
Off-Campus Housing
If you've done the campus life for any amount of time, odds are you've thought about making the move off-campus. Living off-campus allows you a lot more freedom, but comes with a lot more responsibility.
Apartments
Knoxville apartments are a common choice for UTK and other area students. You get a taste of living on your own without the full blown responsibility of home ownership. With your own apartment, you can invite friends over whenever you'd like and often are allowed to have a pet, usually with a separate fee. But with renting an apartment comes money for monthly rent, utilities, internet, groceries, personal items, and more. Rarely are monthly bills due on the same day, making a budget imperative.
Townhomes
Townhomes can be an option if you want or need more space thanKnoxville student apartments provide and have the budget to also pay for HOA (homeowners association) fees. Some have a back and/or front yard, but most townhomes are built in rows with one to two shared walls between units. HOA fees usually only cover certain types of maintenance to the townhome and trash pickup. Whether you rent or own, you're often responsible to pay for the interior and exterior maintenance of the property.
Rental Homes
Many UTK students share a rental home with friends. Rental homes come in many price ranges and vary in number of bedrooms and bathrooms. Yet, like most off-campus housing options in Knoxville, you're required to sign a one-year lease and are responsible for most monthly utilities. Then there's the landlord factor. Your landlord may have a laissez faire approach, or they may be more hands-on and checking in on their property a lot. This can be good or bad depending on your expectations as a renter.
Difference Between Studio & 1-Bedroom Apartments
During your search forapartments in Knoxville, TN, you'll come across studio and one-bedroom apartments. While they may seem interchangeable, there is a clear difference the moment you walk in for a tour.A studio apartment has the main living area and a separate bathroom. Your bedroom, kitchen, and living space are all in one spot. This can be helpful if you're starting out and don't have furniture to furnish an entire apartment. But the downside is the lack of defined living space. If you have guests over, it will be like a childhood sleepover with everyone sleeping in the same area.A one-bedroom apartment has defined living spaces, such as the kitchen, bathroom, living room, and bedroom. This definition allows for more privacy than a studio, but at a cost. Rent and utilities will be higher since you have more square footage to live in. You're also responsible for furniture, decor, and anything else you'd want besides major appliances. Some one-bedroom apartments may have a stackable washer/dryer while many don't, leaving you to make trips to the laundromat.
Enhanced Student Living in Knoxville, TN
So you've spent some time researching and checking out your options for housing while at UTK. You've probably come across the term "enhanced student living" a time or two, but aren't sure what it is or means. Well, it means you have the best of both worlds in one location for student apartments in Knoxville, TN.
On-Campus Amenities, Off-Campus Convenience
If you're a fan of one-stop shopping, why not have that with your housing? At Knox Ridge, we combine the on-campus amenities and convenience with off-campus freedom. Every unit has private bedrooms and bathrooms, in-unit laundry room, major appliances, expanded cable TV and Wi-Fi access. Located minutes from UTK, we have shuttle stops to campus and downtown to help you get to class and out with friends to socialize.
Lifestyle Offerings
Because you live off-campus doesn't mean you should have constraints on your lifestyle. If you enjoy hanging out with friends, our 30-plus person hot tub and lazy river are great places to catch up. Or catch a Vols game on the outdoor Jumbotron TV while grilling in our common area. The clubhouse features a coffee bar and high-speed WiFi for those days when you want to get homework done but not be confined to the library. And if you enjoy working out, Knox Ridge's gym is fully equipped with cardio equipment, free weights, and more and has 24/7 access.
Knox Ridge Is Your Home As A UTK Student
When you visit Knox Ridge, you'll quickly see how it has become home to many UTK students. Close to campus yet you have personal freedom to come and go on your schedule. Our four- or five-bedroom units make it possible to live with friends while still having privacy. We know you'll love living at Knox Ridge. Call today to schedule a visit!