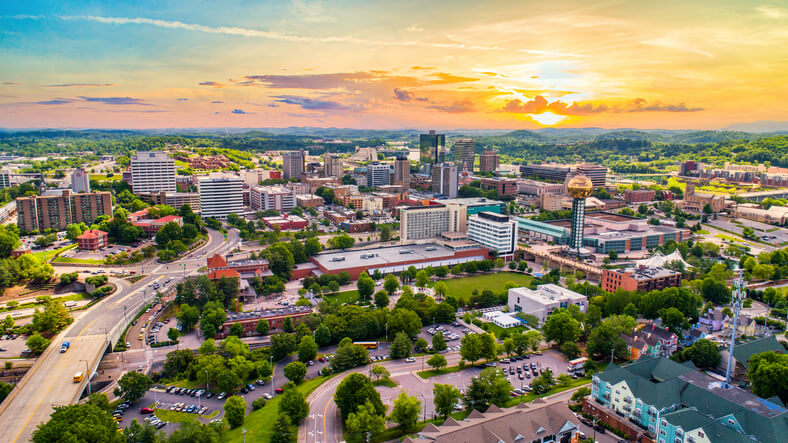 Whether you're a new student at UTK or just looking for a new place to live in Knoxville, apartment hunting can be a bit daunting. From deciding which amenities fit your lifestyle to picking the perfect floor plan, the search for a new home can be complicated. But it doesn't have to be! At Knox Ridge, our team wants to make your search for the best UTK apartments easier than ever. Be prepared for the search with these four tips, and contact us today to schedule a tour of our community.
Set A Budget
Renting can account for a large portion of your bills, so it's best to be honest about what you can afford. In fact, many apartments will require an income of two to three times the amount of the monthly installment payments. If you don't meet this requirement, they'll deny your application or require a guarantor co-signer. However, students' incomes aren't always straight forward. Some students have loans, scholarships, freelance jobs, financial help from guardians, or multiple streams of income.
Once the amount of income has been determined, students should examine how much of that income is already being spent on other things, such as food, transportation, cell phone bills, and even savings. The difference between those two numbers is the maximum amount that can be spent on an apartment, which should also account for the cost of utilities. If a student does not make the required amount, they may need a guarantor co-signer. This is a person who has good credit and the required income to be able to pay monthly installments in the event that the student can't.
Ways To Save
One way to reduce monthly installment payments is by rooming with other people. While being able to choose your roommates may be more desirable, it might not always be possible. To address that, we help pair residents with roommates who have similar interests and living styles to help new students make connections. There is also the option of individual housing contracts, or "by the bed," meaning that residents are only responsible for their portion of the total, whether or not all rooms are filled.
Students should also look for apartments near UTK that include some or all utilities, such as water, trash, sewage, and pest control. Having a single price to pay will help students get a better idea of the budget. When you move can also affect prices. Vacancies are more likely to open at the end of spring and fall when the semesters are ending. Look for potential move-in specials during this time and remember to start planning early so that you don't miss them.
Do Some Research
Finding information about apartments is now easier than ever. Sites like Trulia, Zillow, and Apartment Hunters make comparing apartments simple. And Googling apartments not only gives you access to their websites, where pictures and floor plans can be found, but can also lead you to online reviews of the communities. While the Internet offers a trove of apartment search tools, don't forget good ol' fashioned word of mouth. Asking other students, faculty, and friends can help provide information about an apartment that may not be available online. Although individual experiences don't necessarily reflect the community as a whole, they can be a valuable factor in determining where students end up living.
Schedule Apartment Tours
Once you've narrowed down potential apartments that fit both your budget and your needs, you should visit each one in-person. While pictures online can be helpful, nothing beats viewing the space firsthand. You'll be able to determine if the unit lives up to your standards and if there are any issues that should be addressed before moving in. Once you've toured the apartment, take time to look around the community. This will allow you to see the upkeep of the grounds, talk with potential neighbors, and see all the resort-style amenities for yourself. Even though most apartments take walk-ins for tours, scheduling ahead can be helpful to save time. This is especially true if you're coming from out of town or are trying to coordinate the tour with other roommates.