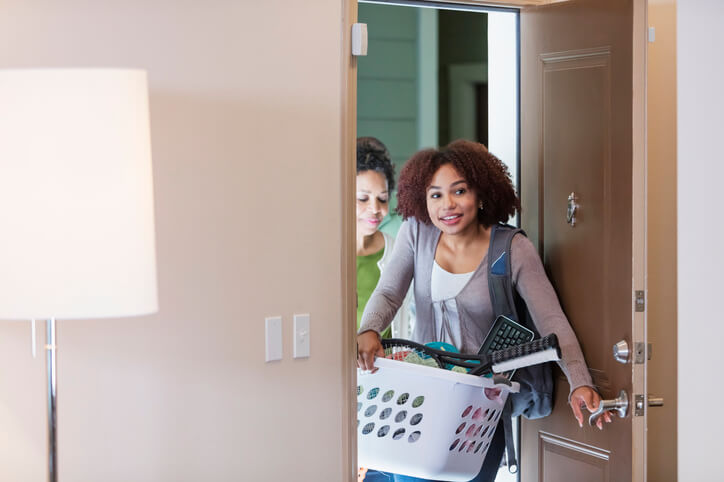 While there's no exact formula for finding a perfect student apartment, there are things you can do to improve your chances. At its core, a successful apartment search involves five search steps and five key features to look for. Keeping these ten things in mind during your search for off campus apartments in Knoxville will help lead you to some great options of where to live!
5 Apartment Search Steps
No two students will search for, in exactly the same ways. But their overall approach to finding housing should include these five steps.
1. Visit Apartment Websites
Aside from trying to learn by word-of-mouth about apartments, use the Internet to your advantage. There are plenty of apartment-search websites, but these will yield huge numbers of listings for off campus student apartments in Knoxville, TN, and it can be difficult to navigate through them. A better solution is to visit each property's website directly. There you'll find a photo gallery and other details about floor plans and amenities to help you gain a sense for what life is like in the community.
2. Read About Each Property
Images and videos can help you picture the lifestyle that comes with life at various off campus apartments in Knoxville. You can take note of which furnishings come with the rooms and the types of amenities, such as a pool or fitness center, in the community. But don't stop at the visuals. Read the information on a property's website to get a better impression of whether it is the right place for you.
3. Learn About The Property Managers
Once you have a list of properties that meet your criteria, you can filter the results further based on the reputations of the managers. Property managers oversee the operations of their communities. They handle everything from processing payments to building maintenance. A property manager with a trusted reputation is more likely to be responsive to tenants' needs.
4. Know Your Budget
Budget experts say housing costs shouldn't be more than 30 percent of your income. The situation is slightly different for renters who have co-signers or family to help with payments. But if you're paying alone using money from a job or student loans, be mindful of the ratio of your housing costs to your income. To reduce living expenses, look for a property with amenities that offset other costs, like a fitness center that takes the place of a gym membership.
5. Tour The Community In Person
It's always a good idea to schedule an apartment tour before signing the rental contract. This gives you a firsthand account of the layout and physical condition of the unit. If you have questions, pose them to the leasing agent during the tour. Details about the community's guest policy or parking rules aren't always listed on the website.
5 Apartment Traits To Look For
Everybody has different tastes. However, the most sought-after student housing near UTK has these five things to offer residents.
1. Furnished Rooms
It takes a lot of furnishings to make an empty apartment livable, and very few students either own that much furniture or have the budgets to buy it. Hence the popularity of furnished student housing near UTK — with the beds, desks, TVs, as well as cable and Internet services provided to them, students can simply grab their keys and live at ease.
2. Individual Contracts
If you're living in student housing, you'll probably be living with roommates. That's a good thing, most of the time. Part of college is about making new friends, and Knoxville is a great college town with tons of activities that students can enjoy together. Where roommates run into trouble is sharing financial liabilities for their housing. But individual rental contracts eliminate those difficulties. With this type of contract, each person is responsible only for his or her payments. If one roommate pays late or moves out early, he or she doesn't affect the others.
3. A Location Near Campus
One way to excel in the classroom is to get there on time. The closer your apartment community is located to the UTK campus, the easier time you'll have commuting. In Knoxville, some of the most convenient neighborhoods for students are situated just south of the university, on the opposite side of the Tennessee River.
4. An Online Resident Portal
A resident portal is an online resource that lets tenants manage payments and make maintenance requests from the convenience of their homes. No more walking to the leasing office to handle every piece of business; tenants now can log on from their laptops or phones.
5. Roommate-Matching Services
The people with whom you choose to live will influence the overall quality of your college experience. You don't want to spend your years at UTK clashing with roommates whose standards of cleanliness are different from yours. To help spare students any roommate drama, roommate-matching services put together renters who have similar hobbies, interests, and lifestyle habits and are likely to get along with each other.
Maybe you didn't think you'd be able to find an apartment that has all five of these traits. But then you used the five search tips to find Knox Ridge and subsequently discovered that we have everything you're looking for in student housing near UTK. Located near campus, we offer individual contracts for furnished units designed with students in mind. Knox Ridge also is an amenities-driven community with a fitness center, lazy river, study lounges, and more. Contact us to learn more or submit a housing application!