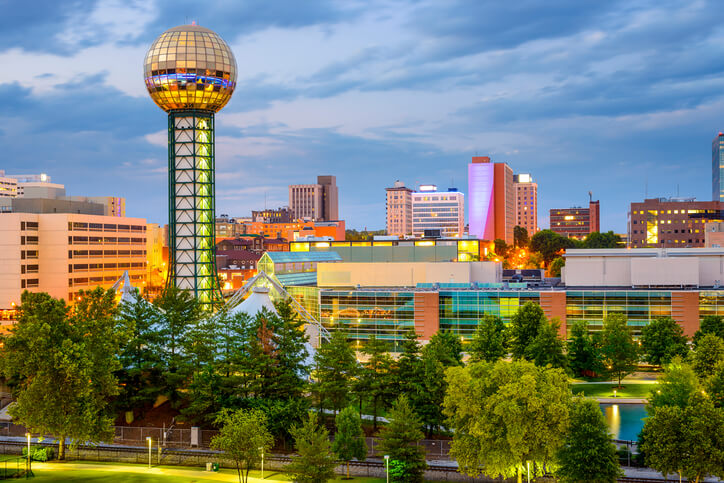 Knoxville, TN, is a tight community with rich culture and unique characteristics that provides its residents with continual entertainment and comfortable living. At Knox Ridge, we provide Knoxville student apartments for the ultimate living experience during your college years. Everything from our apartment floorplans to the amenities we offer are designed to provide our residents with everything they could want and need while living in Knoxville, TN.
What to Expect When Moving to Knoxville
When moving to any new city, you may have a few questions about life in Knoxville. The following guide includes commonly asked questions by students to help you get to know Knoxville and what it will be like living in your student housing near University of Tennessee.
What does the move-in process involve?
Once you've signed your lease, you will be assigned a date after which you can begin to move-in. After you arrive, you will need to check-in to receive your keys and unit number if it hasn't been assigned to you. You will then have the opportunity to move-in all of your belongings as well as organize and set up, which can take a couple hours.
What are my transportation options to campus?
Students who live in Knoxville apartments near the University of Tennessee may be able to walk or bike to campus. Students who live farther away will need a personal vehicle or could choose to use the city's bus system. There are multiple bus routes throughout the city that run all day if transportation is needed. Once on campus, students can ride the University's bus system to get to classes faster.
How can I exercise in Knoxville?
If you are interested in staying physically active in Knoxville, students have access to the university's RecSports including its facilities and programs. You can join intramural teams, hiking and climbing excursions, fitness classes and more. Most apartment complexes also provide residents with a fitness center (free of charge).
Do Knoxville apartments allow pets?
Not all student housing Knoxville residents can choose from allow pets. Most that do will might charge a one-time fee to allow for a pet or charge you an extra amount on your monthly rent. At Knox Ridge, we allow pets without any breed restrictions. Before bringing your pet to your student housing, it is important to check whether they allow pets, how much they will charge and any restrictions.
What is the atmosphere like in apartments?
Most student apartments Knoxville, TN, students choose to live in are made up entirely of students or mostly students. This creates an environment of individuals who are relatively in the same age group, are open to meeting other people, and have similar lifestyles. The result is a very friendly, energetic, and social living atmosphere. Events such as pool parties are also held in many apartment complexes for the students, providing them with entertainment and a way to meet other people in the community.
Should I get renters' insurance?
Renters' insurance isn't a requirement but it is highly recommended to protect your belongings. In the case of a burglary, natural disaster or fire, your landlord is not responsible to replace or cover the expenses of your lost items. Renters' insurance can provide you with a financial safety net if such an event were to occur.
Where can I find nightlife in Knoxville?
If you want nightlife when living in Knoxville, head downtown. This area provides entertainment all day and night with a variety of restaurants, bars, nightclubs and more. Downtown is sure to have something for everyone to enjoy, and as an added bonus, it is conveniently located close to campus.
What are some good places to eat?
Some of the favorite places to eat for students in Knoxville include Pete's Coffee Shop for breakfast, Copper Cellar for delicious burgers, The French Market Creperie for fresh crêpes, Chaiyo's Thai & Sushi for pad thai and sushi, and The Tomato Head for vegetarian and vegan friendly options.
Where can I go shopping in Knoxville?
If you want to go shopping, head to Market Square in downtown Knoxville. There are a variety of galleries, shops and boutiques as well as restaurants to keep you entertained all day.
How can I lower my utility bill?
When living in apartments in Knoxville, TN, it is important to be mindful of the electricity and water that you use to avoid high utility costs. In order to lower your utility bill, try taking shorter showers, only use the dishwasher and laundry washer for full loads, turn off any lights not in use, and keep the thermostat at a consistent temperature.
What can I do to ensure a good relationship with my roommate?
Living with a new person whom you don't know can be an intimidating thought but it is important to try to build a good relationship. Spend some time with each other in the common room or somewhere in the city to get to know each other, establish any boundaries early in the move-in process, and communicate clearly to avoid any issues. Many students find that they become good friends with their roommates and it makes it easier for them when living in a new city with new people.
What student housing options are there in Knoxville?
In Knoxville, TN, students have the option of on-campus or off-campus housing. On-campus housing is housing directly provided by the university, such as dorms, suites, and apartments. Off-campus housing is located off campus and includes apartments, townhouses and houses. Off-campus housing tends to provide its residents with more freedom, larger and more private floorplans, and newer amenities.
What are some cool amenities that apartments offer?
Many of the best student apartments in Knoxville provide their residents with resort-style amenities. At Knox Ridge, we have a lazy river for residents to tube and relax, a large hot tub, an outdoor gaming area, charcoal and gas grills, a business center and study lounge, high-speed Wi-Fi access by the pool and in units, a state-of-the-art gym, a clubhouse with a coffee bar, billiards and more.
How can I meet new people in Knoxville?
A very important question for many students new to Knoxville is how to meet new people and make friends quickly. The best way to do this is by attending university events and events hosted by your apartment complex, joining clubs and getting involved with the university. The more you put yourself out there and surround yourself with like-minded individuals, the faster you'll meet a group of friends where you can fit right in.