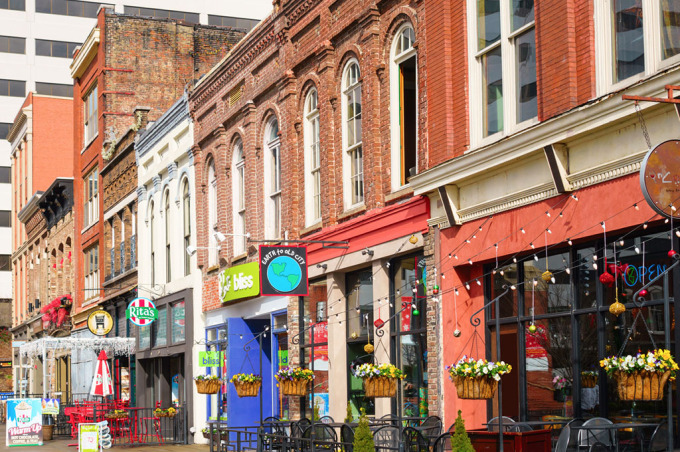 Knoxville, TN, has evolved into a multicultural community, and its mix of people has created a rich environment, with unique characteristics and entertainment for you to enjoy. The area is also home to the University of Tennessee, catering to many young individuals. But don't let this fool you: Knoxville is more than a college town. People of all ages reside here, as opportunity and excitement are plentiful for all ages. To tie it all together, Knoxville is surrounded by beautiful scenery, creating a natural escape at every direction. At Knox Ridge, we provide some of the finest Knoxville student apartments and want to give you a running start when you first arrive, so you can make the most of your college years.
Student Living In Knoxville
Choosing where to live in a new city can be tricky, and your choice can either make or break your living experience. It is important to be aware of exactly what you want from the area that you live in. Do you prefer nightlife, busy city life or more secluded living? Questions like these will help you match your interests with a place that provides what you want most. Knowing these things will help you choose the Knoxville student housing that's best suited for your needs and lifestyle.
North Knoxville
North Knoxville is considered an up-and-coming area, with a lot of change going on in this part of the city. The locale is known for its architectural character and ethnic diversity. North Knoxville is also perfect for those who want to live a straight shot from downtown but not necessarily within it. The area provides more of a causal, front-porch aesthetic and a calmer living style. It is perfect for young professionals and students searching for the best student apartments Knoxville, TN, has to offer with a more relaxed vibe.
West Knoxville
After World War II, Americans started moving to the suburbs and Knoxville and spread toward the west, moving the city's wealth with it. On this side of town, you'll find a wide array of amenities, such as shopping and restaurants. The area has also seen an expansion in residential and commercial development, providing multiple attractive options for new student housing in Knoxville, TN. The University of Tennessee is located on this side of town as well, making the commute short and easy. Due to its convenience of being located next to campus and the exciting life that it provides, West Knoxville is a very popular place to live for students, professors and professionals.
South Knoxville
South Knoxville is interesting because it is separated from the city by the Tennessee River. In order to reach downtown, you need to travel over the Henley Street Bridge, the James C. Ford Memorial Bridge or the Gay Street Bridge. The south area of the city is ideal for students looking for Knoxville, TN student housing surrounded by beautiful scenery. Nature is this side of town's main attraction, cozily enclosing it and providing parks, wildlife sanctuaries and hiking trails for your enjoyment. If you like the outdoors and going on hikes, this is definitely the area for you.
Downtown Knoxville
Downtown Knoxville provides a diverse neighborhood that is pedestrian-oriented, with more than enough to keep you entertained both day and night. The area has experienced considerable growth in recent years, introducing new amenities and making the area highly desirable to live in. In this area of town, you'll find student apartments that are located in the middle of all the excitement, and as an added bonus, the downtown area neighbors the university campus, making the commute fairly easy and quick. If you like the city life and nightlife, Downtown Knoxville is the place for you to be.
East Knoxville
East Knoxville use to hold the wealth of the city at one point, and the effects can still be noticed today. This area boasts a combination of mini-estates and more modest homes and is known for its expansive acreage. The region is more spread out than other parts of the city, creating a rural vibe that is only a couple minutes away from the bustling city. When driving through east Knoxville, you'll notice the broad, tree-lined streets, creating a calm and pleasant atmosphere.
Things To Do In Knoxville
Places To Eat In Knoxville
Student Housing in Knoxville, TN
At Knox Ridge, we provide premier student apartments for the ultimate living experience while you attend the University of Tennessee. UT is an incredible university with a lot to offer its students, and your experience there will be even better by living in a setting that complements your lifestyle. Contact us today for student apartments in Knoxville, TN.